4 Ways to Endure the Chaos and Emerge a Warrior
I was working at The Players' Championship when the news came that the majority of the country's activities were being shut down. It was weird, surreal, and scary. I had spent time on the range with one of players talking about how the NCAA had just canceled all spring sports including the men's and women's College World Series. There was hope they could play, just with no fans in attendance. It was a multi-million dollar decision that had to be made to cancel the tournament. Then, The Masters. Then, the Final Four. All canceled.
The past three weeks have been strange. I do not really know how to describe it; it has shaken me. Owning a business in these times is really scary. It is our family business. I know many of you are worried about your income, your business, and your future too. That does not minimize the culprit – COVID-19. Shoot, I don't want to get sick, anyone I know to get infected, and I am tired of seeing the horrendous news of those suffering.
I am ready to be done with this crap but is not up to me. It is not about me. It is about the decisions I make in this time and the reconnection to me, my passions, and my family.
Last summer, Patrick Murphy, the Hall of Fame softball coach at The University of Alabama, gave me a book to read – The Choice by Edith Eva Eger. Dr. Eger is a clinical psychologist who, as a 16-year-old in Poland, was a prisoner of the heinous and inhumane concentration camps, including Auschwitz. Her choice on the day of her imprisonment started a cascade of decisions and consequences that have guided her life and caused her emotional pain throughout. It is a powerful book that you simply must read with all that is going on in today's world.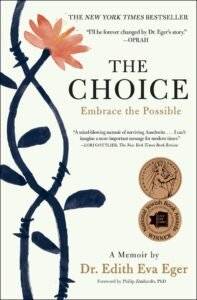 As her mentor wrote in his seminal book, Man's Search for Meaning, Dr. Viktor Frankl gained important understanding during his time at Auschwitz that in order to survive, you must learn to find the purpose in the suffering. That is the most important thing right now.
No matter how fast you want this to end, it will end on its terms. Here are a few things that I am committing to that you may find helpful for you:

"If you don't identify what you want and build a plan to make that happen, then what are you really trying to accomplish?"
I am looking at the activities, worries, and stresses that cause me extra energy and I evaluating ways to eliminate them. I have the time right now and there are things that I have been in doing in my life that did nothing more than cause struggle. I am not going to reactively eliminate things but instead, I am looking at what I enjoy and what brings me positivity and do that. For years, I have said I was going to do that and there is no better time than right now!
I travel and work a lot. I make all the Diamond travel thresholds by the end of summer, if not earlier. While I love to travel, that often comes at a sacrifice with my family. I am using this time to be present, to play board games, to put together puzzles and have family dinners. With two college-aged children, this may be the last time we have that opportunity before they start their professional lives.
I allow myself to sacrifice exercise quite regularly because of my schedule but I don't like that. With one of my clients, Billy Horschel, actively on social media challenging his colleagues, and privately me, to get on the Peloton, I am working on it. It is about intention and not time.
This time of no travel has also allowed me to write more, develop content, and share my message of things that can help you in your performance life, your sport, and your business. I have conducted several free webinars on coping for parents, coaches, and athletes and loved it. The response was far greater than I could have imagined. I will do more.
I want you to send me an email or comment below this video on YouTube and give me your FOUR – the four things – you will commit to doing to improve and make a positive impact on YOU during this time. It is easy to find stress around every corner, but your mindset can shift your perspective in an instant.
If you are struggling, please reach out. I can direct you as needed or help you find resources in your area. Do not suffer alone. Even though we are social distancing, we should not be socially isolated. Use technology to your advantage.
One more thing – If you are a coach, in business, or lead a group and need a pick me up, let me know when your next virtual meeting will be, and I will jump on for a motivational booster. There is no cost. In fact, you are doing me a blessing as I get to reconnect to my purpose.
That is the goal, right?
Stay safe, stay engaged, and let's beat this thing. Right now, you need to ENDURE so that you can EMERGE a warrior.