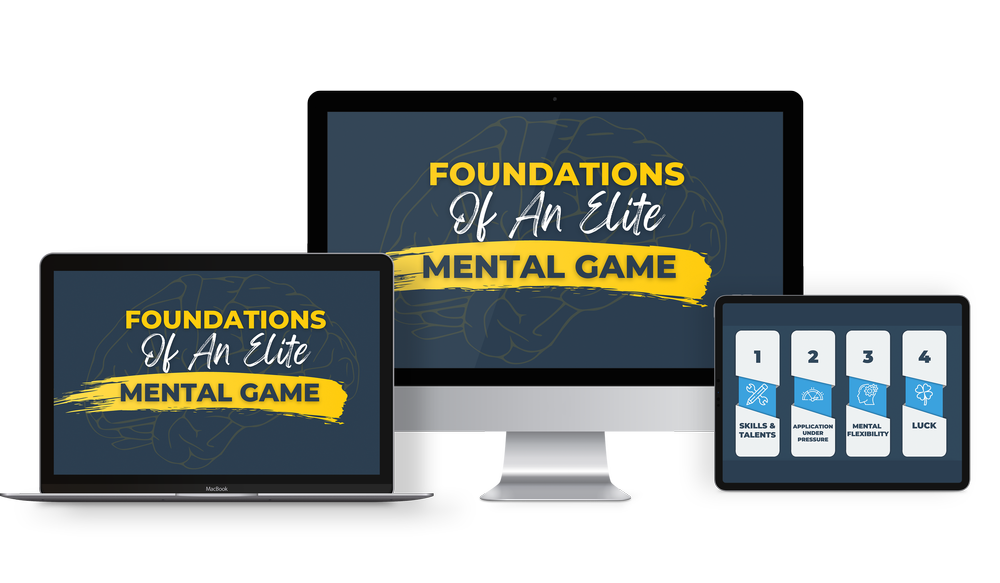 The Journey To An Elite Mental Game Starts Here
Helping you lay the foundation for an elite mental game so that you can perform your best in the highest pressure moments

You'll get immediate access to the Foundations of an Elite Mental Game training program proven to help athletes prepare for, thrive in, and accurately review each high-pressure, high-intensity moment they face.

IMPLEMENT THE STRATEGIES IN YOUR GAME
You will receive Dr. McCabe's mental game system utilized by the top athletes and collegiate athletic departments in the country. Best of all, he will be there to guide you every step of the way!

PERFORM AT AN ELITE LEVEL
Dominate the competition and become the champion you were meant to become through this training system. You will think less, develop more confidence and belief, experience less doubt, and most importantly, WIN!
Sign up for the Foundations of an Elite Mental Game training program today and learn…
How to develop belief and self-confidence when you are struggling

How to focus under pressure and slow the game down

What your competitive personality is and how to utilize it in competition

How to move toward mastery of your skills

How to trust your preparation in high-pressure moments

The importance of performance routines and how they increase your chance for success

How to get out of your own way and compete at an elite level
BREAKDOWN OF THE foundations of an elite mental game Training. The four sections include:
Topics include: Mental Game/Mental Wellness As An Athlete, Preparing to be Coached, Experience from the Best in the World, Standards of Excellence, Mental Game for Team Members, How Do You Define Success?, The Game Plan

Topics include: Prepare Like a Winner, Dealing with Feedback, Learning New Skills, Managing Frustration and Struggle in Practice, The Simulation

Topics include: Transitioning to Competition, Competitive Mindsets, Funnel of Focus, Enhancing Mental Flexibility and Grit, Managing Drama Internally & Externally, Handling Getting Benched/In A Slump, Elements of Good Sportsmanship, Emotions - Good or Bad?, Capability vs. Capacity, Breaking Free From Suckville

HOW YOU REVIEW PERFORMANCE TO ACHIEVE MASTERY

Topics include: How to Review Performance, Setting Boundaries, Applying to Your Game
Access to the Foundations of an Elite Mental Game Includes…

26 MENTAL PERFORMANCE VIRTUAL LESSONS
Full training program with Dr. McCabe there to guide you every step of the way. It's broken down into three phases: how you prepare, how you compete, and how you review performance.

IMMEDIATE, ON-DEMAND ACCESS
You will have the ability to create your own unique login and password for 24/7 on-demand access to training content. Access Dr. McCabe and his material whenever you feel like getting better.

COMMUNITY DISCUSSION SECTION
Each section contains an interactive community for comments, questions, and discussion about the content.
As a Clinical & Sports Psychologist, Bhrett understands the pressures you go through as a competitor.
He's here to help overcome the struggles you face in competition and get back in the win column!
Sports Psychologist to professional athletes including 12+ PGA and LPGA Tour players whose rankings have reached #1 in the world

Consulting Sports Psychologist for The University of Alabama Athletic Department, working with all teams and coaching staffs

Featured speaker to numerous Fortune 500 companies and organizations